Jurassic Park Arcade – Deluxe Motion Edition Creates EVEN MORE Gameplay Excitement!
The Jurassic Park Arcade is taking operators and fans by storm with it's exciting and addictive gameplay.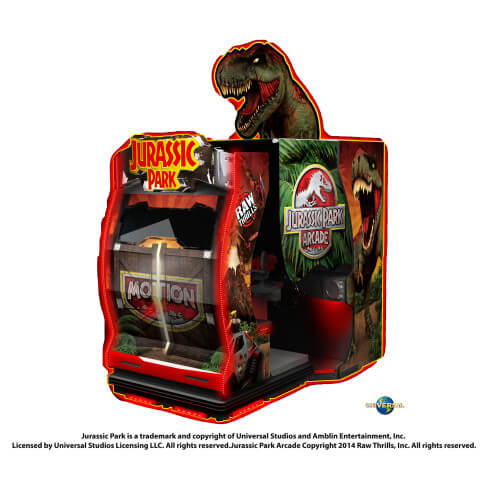 Now, the Jurassic Park experience is even MORE intense with a motion element that gives you the ultimate feeling of reality.
In Jurassic Park Arcade – Deluxe Motion Edition, players not only see and hear the sites, but they can now FEEL like they are really in the drivers seat. With every turn, players can experience the dinosaurs in a completely different way, as if they were transported to Isla Nubar!
Don't miss out on having the best arcades at your location. Join the Jurassic Park Arcade wave and increase your earnings TODAY! Check out why two Jurassic Park Arcade's are better than one, the proof is in the earnings reports!
GAME FEATURES:
– Based on the Hit Movie Franchise
– Massive 55 inch HD LCD display
– Family-friendly gameplay
– 9 Exciting Missions
– Over 30 species of Dinosaur
– High-reliability Guns
– Over 1000 Dynamic color-changing LED's
– Cutting edge graphics and sound
– Lighted giant Dino topper and Jurassic Park Logo
Learn more HERE!
Interested in purchasing Jurassic Park Arcade- Deluxe Motion Edition for your location? CONTACT: sales@rawthrills.com