Minecraft Dungeons Arcade
---
---
Cabinet
---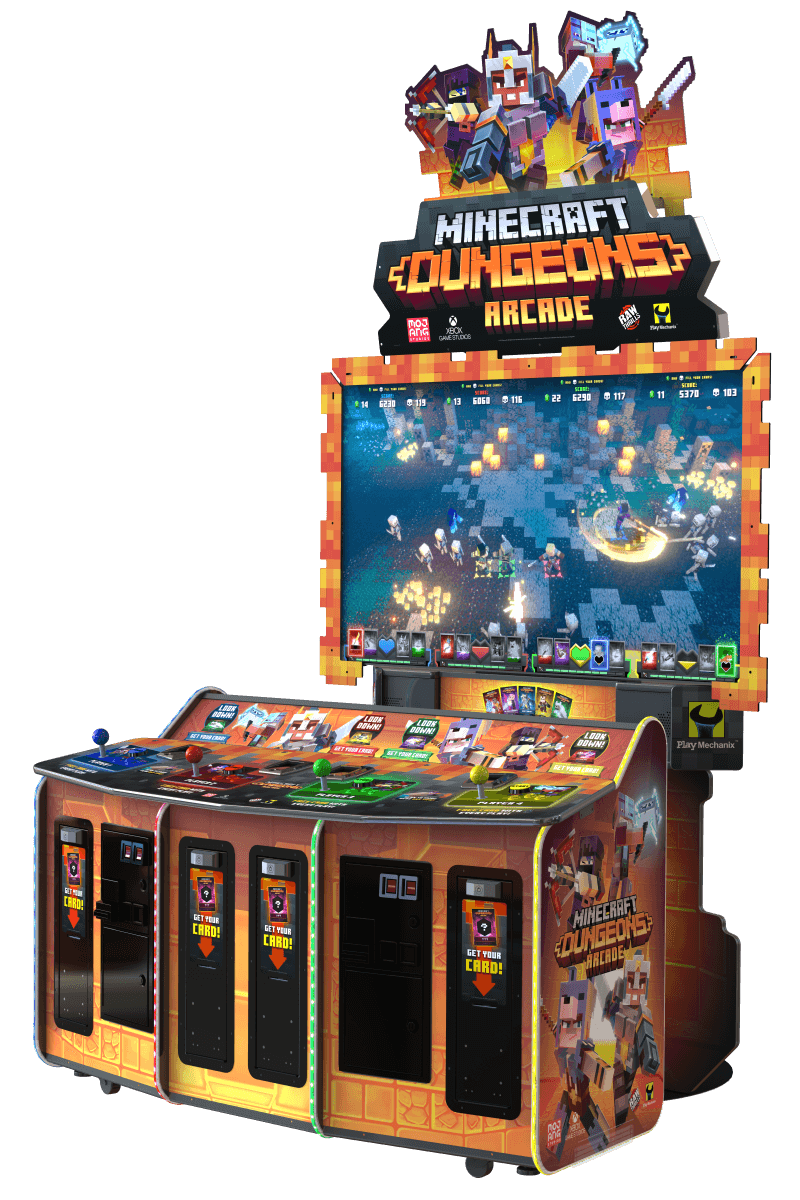 ---
Description
---
Hidden Depths FREE UPDATE Now Available!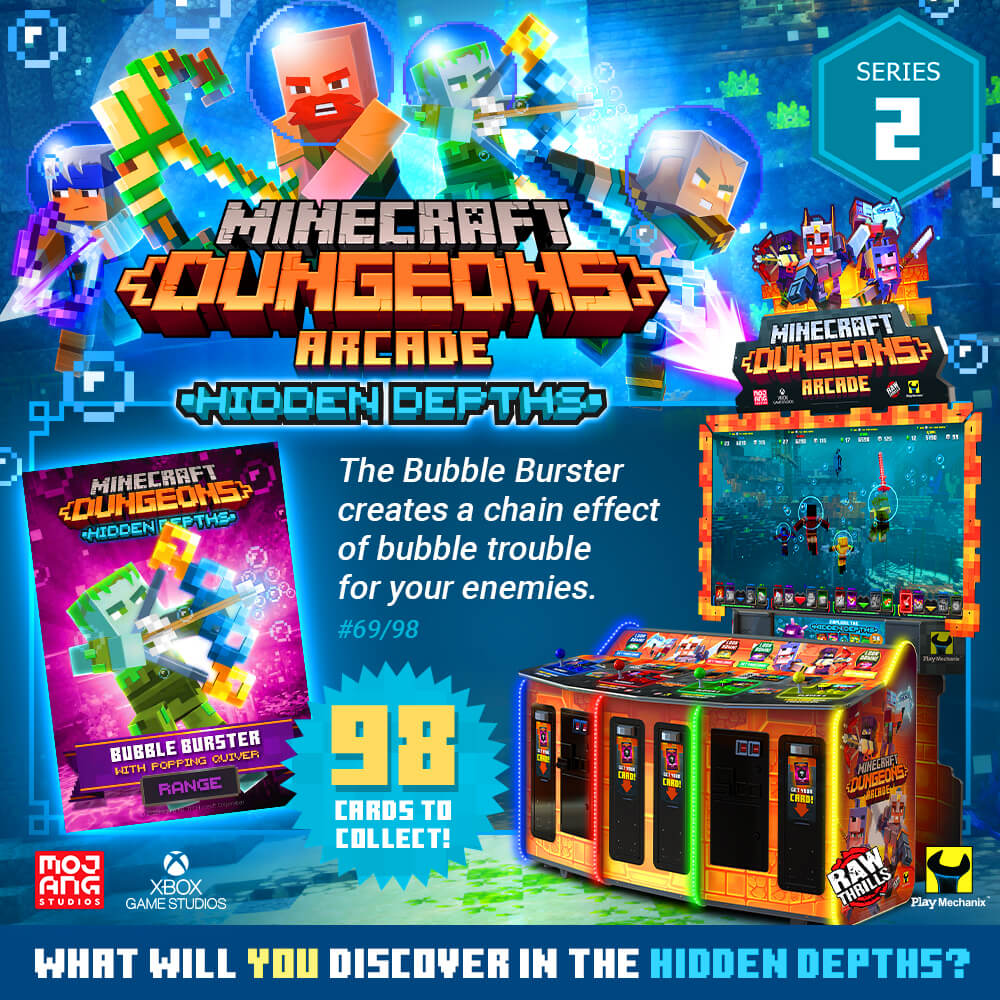 If your game is online, the update will download automatically. Not online? Contact your local distributor to get online and get the FREE update! You will also receive a coupon redeemable for a free pull-up banner displaying the BRAND NEW Series 2 cards!
The best-selling video game franchise of all time has come to the arcade. After launching a successful partnership with the smash hit Halo: Fireteam Raven, Raw Thrills and Play Mechanix have released their latest venture with Microsoft and Mojang Studios – Minecraft Dungeons Arcade! Minecraft Dungeons Arcade is an epic, action-packed adaptation of the popular console and computer game Minecraft Dungeons, a multiplayer "dungeon crawler" set within the Minecraft universe.

In Minecraft Dungeons Arcade, up to four players use a diverse arsenal of melee and range weapons to battle through hordes of dangerous enemies and monstrous bosses across nine unique levels! With every play, the stunning cabinet vends one of 98 collectible cards that fit into one of five categories – Melee, Range, Armor, Pet or Skin – and can be used to customize the player's adventure. 38 BRAND NEW cards have been recently added with the addition of a new underwater adventure level – Hidden Depths!
Officially licensed from Microsoft and Mojang Studios.
With over 200 million copies sold and 126 million active monthly players, Minecraft is one of the most popular, powerful brands and licenses in the world.
BRAND NEW LEVEL – Hidden Depths – Now Available!
38 NEW Series 2 Cards to collect!
Supports one to four players with a focus on co-operative play.
Ten exciting levels to explore – from the Frozen Fjord to the Fiery Forge – totaling more than 100 minutes of fun-filled gameplay!
Card-vending game with 98 different cards to collect!
Breathtaking cabinet features a 65" HD display, eye-catching LEDs, layered marquee and four card scanners and dispensers.
Ships with 2,800 cards and a stand-up promotional banner!
Connect online to CoinUp for free and automatically receive future software updates.
---
Specifications
---
Minecraft Dungeons Arcade
Loading Info – [53'-11][40'-8][40'HC-8][20'-3]
Shipping Dimensions – Two Pieces
–Main Cabinet – 40″H X 73″W X 48″D – 540 LBS
–Pedestal – 35.5″H X 54″W X 55″D – 300 LBS
Location Dimensions
–65″ Cabinet – 116.71″H x 71.70″W x 67.79″D
USA/Canada (ETL) – ~120VAC/60Hz/5 Amps
International (CE) – ~230VAC/50Hz/2.5 Amps
Additional Content
---
Minecraft Dungeons Arcade Manual – 11.6MB
Minecraft Dungeons Arcade Hidden Depths Brochure – 8.46MB
Minecraft Dungeons Arcade Brochure – 6.54MB
Minecraft Dungeons Arcade Promo Banner – 9.63MB
Video: Card Dispenser – Routine Maintenance
---
Screenshots
---
---
© 2021 Mojang AB. All Rights Reserved. Minecraft, Minecraft Dungeons, the Minecraft logo, and Mojang are trademarks of the Microsoft group of companies.