The Jurassic Park Arcade has been exciting operators everywhere with it's unstoppable performance in the arcade gaming industry.
TESTIMONIALS
"We are thrilled to include Jurassic Park Arcade in our 2015 Summer of Games line-up. It's as close as you can get to actually visiting 'Isla Nublar' in person!" – Kevin Bachus, Senior VP of Entertainment & Game Strategy, Dave & Buster's
"Jurassic Park Arcade is proving to be a monster hit in UK arcades."
– John Brennan, Commercial Director, Bandai Namco Amusement
"Anyone who says 'video is dead' doesn't own Jurassic Park Arcade! IT'S A WINNER for sure!" – Glenn Kramer, CEO, Elaut USA, Inc.
"We operate Jurassic Park Arcade in multiple centers and it is consistently a top-earning piece!" – Brian Cohen, VP of Operations, Itz Pizza & Pin Stack
"Jurassic Park Arcade is a great looking piece and has been one of our top earners by far. It has been a great addition to our game rooms." – Shawn Hetzel, Arcade Manager, Frankies of Greenville
"Pinballz Kingdom has been very happy with initial earnings of the Jurassic Park Arcade from Raw Thrills. We believe the gameplay superior to any and all other similar environment games, and franchise strength doesn't hurt. Raw Thrills definitely has a winner on their hands!" – Darren Spohn, CEO, Pinballz Kingdom
Earnings reports are showing that TWO Jurassic Park Arcades are better than one!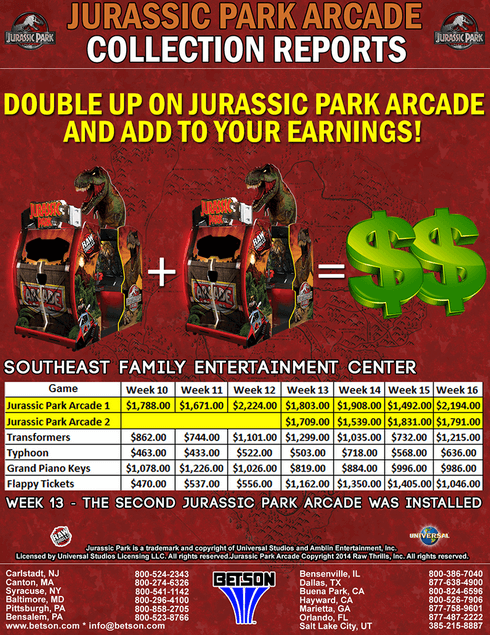 Only have room for one? You will still shred earnings reports and reap the benefits of The Jurassic Park Arcade!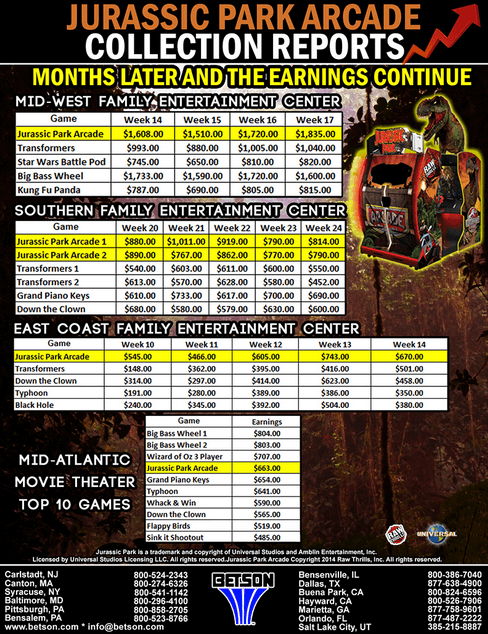 For more information contact sales@rawthrills.com