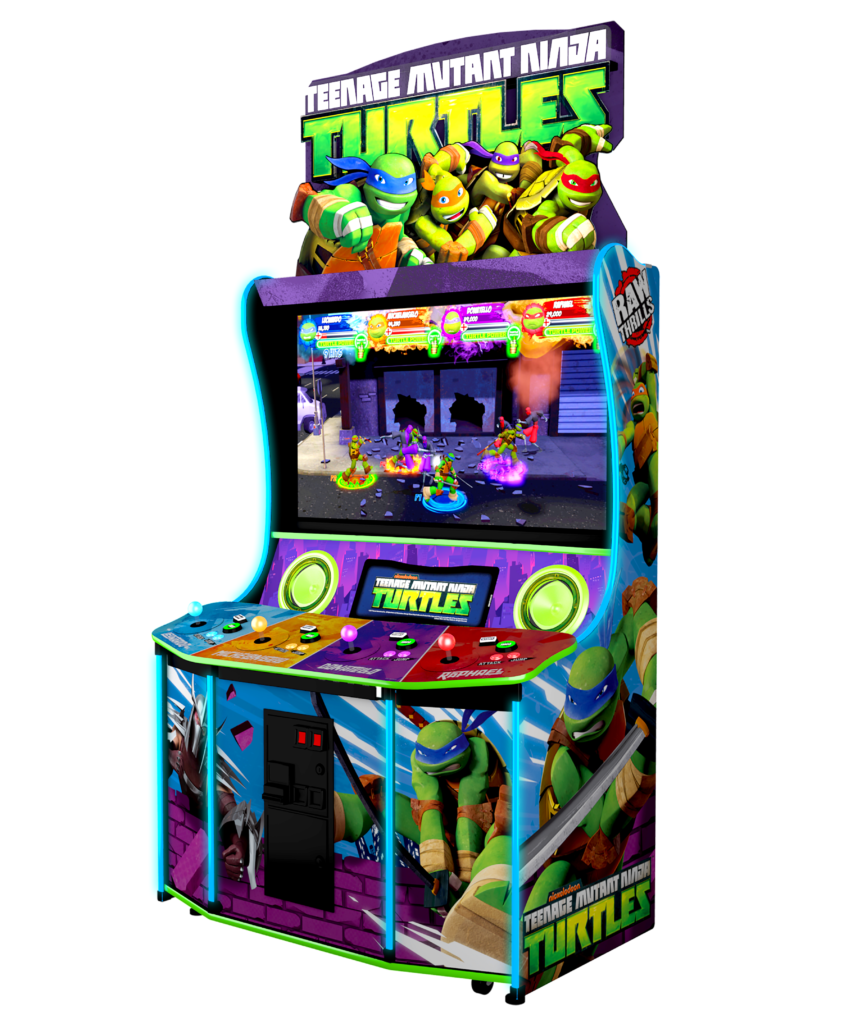 Teenage Mutant Ninja Turtles™
---
"Teenage Mutant Ninja Turtles" by Raw Thrills is a completely new 4 player action/adventure amusement game inspired by the arcade classic "Teenage Mutant Ninja Turtles: Turtles in Time" and based on the current hit animated series by Nickelodeon. Raw Thrills has re-imagined the action brawler genre with new level creation, game play difficulty, pacing, and approach-ability have been completely updated for modern game players. The game's presentation is top notch featuring the 3-D models from the hit animated TV show as well as the A-list voice talent like Seth Green, Sean Astin, Gilbert Gottfried and more. The cabinet features a large 55" HD screen, illuminated LED buttons & trim, attractive marquee, and 4 player terminals in a compact footprint. This iconic brand spans multiple generations of game players and is sure to appeal to kids as well as their parents.
Available in a 55″ deluxe cabinet.
Specifications
---
Teenage Mutant Ninja Turtles™ 55″
Loading Info – [53′-26][40′-16][40'HC-14][20′-6]
Shipping – 59″H x 39″W x 84″D – 586 lbs
Location – 104.25″H x 54.75″W x 32.5″D
Additional Content
---
Teenage Mutant Ninja Turtles™ Brochure
– 2.38MB
Teenage Mutant Ninja Turtles™ Manual
– 4.2MB
---
©2017 Viacom International Inc. All Rights Reserved. Nickelodeon, Teenage Mutant Ninja Turtles and all related titles, logos and characters are trademarks of Viacom International Inc.
Software TM & © 2017 Raw Thrills, Inc. All Rights Reserved