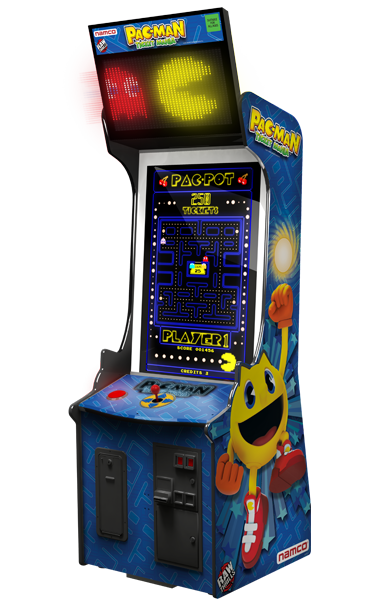 Pac-Man™ Chomp Mania
---
PAC-MAN™ is one of the most iconic characters in video game history and now he is back and better than ever!
For the first time ever, Raw Thrills and Namco have joined forces to create "Pac-Man™ Chomp Mania". This new 1080p HD video redemption piece brings back the classic Pac-Man™ game concept and combines it with the excitement and fun of winning tickets. Players win tickets by munching on as many of the familiar pac-dots and fruits as they can while being chased by the ghosts; Inky, Blinky, Pinky, and Clyde. Grabbing the Power Pellets and eating the "frightened" blue ghosts will earn players extra points. If the level is cleared, the player advances to a bonus stage where Pac-Man™ needs to evade the ghosts as he navigates through the maze and tries to enter the ghost chamber where the "PAC-POT" is located. If you are successful in entering the ghost chamber, the player wins the "PAC-POT" and is treated to a mesmerizing Pac-Man™ animation and cabinet LED light show! The gameplay has also been specially tailored to please both Pac-Man™ veterans and young novices alike. The balanced gameplay and iconic license of Pac-Man™ pulls from a wide demographic of customers and is sure to get both children and parents playing.
The cabinet for "Pac-Man™ Chomp Mania" is beautifully lit from top to bottom with multi-colored LEDs as well as a spectacular overhead LED marquee. The overhead LED marquee is dynamic and vibrantly displays player score, in-game messages, and fun Pac-Man™ animations that occur in real-time during gameplay. The game's cabinet design is a homage to the original look and feel of the classic Pac-Man™ cabinet with a modern twist. The entire cabinet package will stand out on any gameroom floor.
SPECIAL GIFT CARD MERCHANDISER OPTION:
As a special option, "Pac-Man™ Chomp Mania" can also double as a gift card merchandiser for street locations that don't use tickets. With a few simple adjustments in the test menu and the addition of a gift card dispenser, your Pac-Man™ Chomp Mania game can offer gift card prizes instead of ticket prizes. It also has custom gift card image support which allows you to upload any gift card image directly into the game via any USB thumb drive. Your gift card image will then be displayed on screen during attract mode and gameplay!
Specifications
---
Pac-Man™ Chomp Mania
Loading Info – [53′-36][40′-26][40'HC-26][20′-14]
Shipping – 89″H x 34″W x 34″D – 365 lbs
Location – 96″H x 31″W x 33″D
Additional Content
---
Pac-Man™ Chomp Mania Manual
– 865KB
Pac-Man™ Chomp Mania Software
Pac-Man™ Chomp Mania CE Certificate of Compliance
– 13.6KB
Aliens, Barrel of Monkeys and Pac-Man™ UL22 ATM
– 28.9KB