Nicktoons Nitro Racing

-NOT IN PRODUCTION-
---
Cabinet
---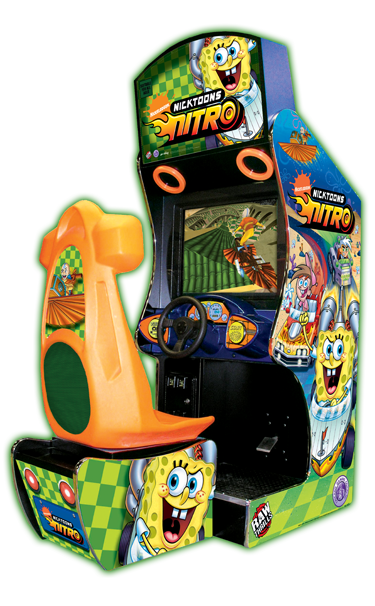 ---
Description
---
Nicktoons Nitro Racing is the first arcade-exclusive racing game of its kind! Nicktoons Nitro puts you in control of Spongebob Squarepants, Timmy Turner, Avatar Aang, Invader Zim, Jimmy Neutron, and Danny Phantom as you race on 6 tracks inspired by the hit Nicktoons TV shows.
To guarantee an entertaining game and high replay value, Nicktoons Nitro Racing has been playtested more than any Raw Thrills racer to date. Kids of all ages can join the fun and engage in some friendly cartoon competition!
Nicktoons Nitro Racing comes standard with a 27″ VGA Monitor, super-high profile marquee, powerful sound system, and a highly-adjustable seat pedestal. Powered by a state-of-the-art DELL Computer, Nicktoons Nitro features 7 full-length tracks and 7 selectable characters, including a climactic race against the evil Nitro! Nicktoons Nitro can be linked to 6 positions for even more fun and earnings potential.
---
Specifications
---
Nicktoons Nitro Racing
Location – 83″H x 30″W x 60″D
---
©2008 Raw Thrills Inc. ©2008 Viacom International Inc. All Rights Reserved.
Nickelodeon and all related titles, logos and characters are trademarks of Viacom International Inc.