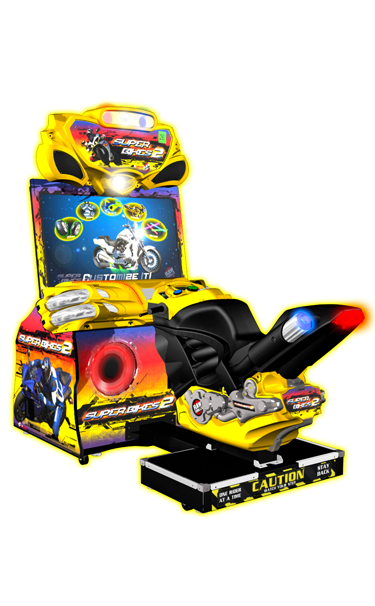 Super Bikes 2™
---
Calling all bikers!
Super Bikes is now in Hi-Def! With a 42" LCD, 10 never-before seen tracks, all new light show and tons of electrifying effects, Super Bikes 2 will blow your mind! Race through Moab as fighter jets attack UFOs, descend into the haunted catacombs of Paris, and dodge giant worms in hyperspace. Escape elephants in the jungles of Thailand, jump through the flaming hoops of Vegas, run with the bulls in Spain and cruise through the unbelievable snow-covered mountaintops of the Himalayas. Choose from 9 riders and 12 bikes with multiple tricked-out upgrades for engines, decals, tires and more! Players can create a unique PIN to save and track their statistics. Super Bikes 2 retains all the exciting components as the original Super Bikes, and is built on a highly reliable system featuring RIO and DELL computers.
Specifications
---
Super Bikes 2™
Loading Info – [53′-17][40′-N/A][40'HC-12][20′-4]
Shipping – Two Pieces
–Main Cabinet – 84″H x 35″W x 48″D – 412 lbs
–Bike Pedestal – 48″H x 38″W x 69″D – 245 lbs
Location – 78 1/2″H x 45 1/4″W x 86″D
Additional Content
---
Super Bikes 2™ Brochure
– 1.35MB
Super Bikes 2™ Manual
– 5.56MB
Super Bikes 2™ Software
Super Bikes 2™ CE Certificate of Compliance
– 16.9KB
Super Bikes 2™ ChangeLog
---
2010 Raw Thrills, Inc. All Rights Reserved.
Yamaha, the Tuning Fork Mark, Star Motorcycles Logo, the Star Mark, R1, Warrior, VMAX and the likeness thereof are
trademarks of Yamaha Motor Corporation, USA and Yamaha Motor Company, Ltd. used under license. www.yamaha-motor.com