Target: Terror™


-NOT IN PRODUCTION-
---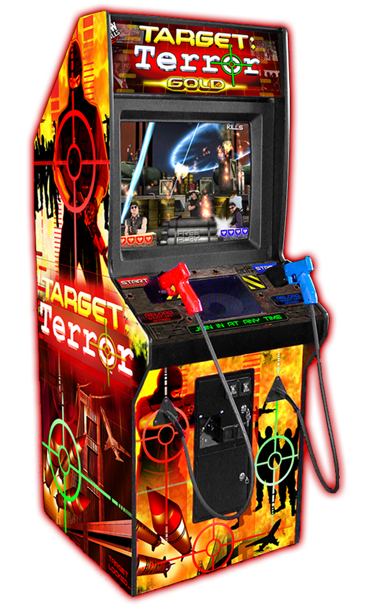 TARGET: TERROR™ is a 2 player shooting game that challenges players to defeat terrorist attacks on the Golden Gate Bridge, the Los Alamos nuclear facility, and Denver International Airport. The final mission is to stop a hijacked airliner from destroying the White House.
For TARGET: TERROR owners looking to increase earnings, the GOLD upgrade adds 10 exciting bonus games, new scoring methods, and more explosive visuals to the hit game.
TARGET: TERROR™ is available as a Universal Conversion Kit (works with ALL monitors!) and as a software update for all existing TARGET: TERROR™ games. Still going Strong!
Specifications
---
Target: Terror™
Shipping – 76″H x 30″W x 31″D – 535 lbs
Location – 74 3/8″H x 29 3/8″W x 38 1/2″D
Target: Terror™ 39″
Location – 85″H x 39 1/4″W x 74 3/4″D
Additional Content
---
Target: Terror™ Brochure
– 518KB
Target: Terror™ Manual
– 1.12MB
Target: Terror™ Conversion Kit Manual
– 1.16MB
Target: Terror™ Latest Software